Sofas and wall units
Design: Bernhardt & Vella
Jill is a fixed or modular sofa, with a dynamic presence and enveloping shapes. Inspired by the iconic and personal style of Pierre Paulin, it is modelled on the idea that beauty can embrace the body and the aesthetic space in which it is placed.
The collection includes corner and linear elements and chaise longue, to provide optimal customization in relation to the room and to ones desires.
In a modern reinterpretation of the 70s, soft padding give body to the backrest and armrests, which extend in a cozy continuous shape for a warm embrace during moments of relaxation.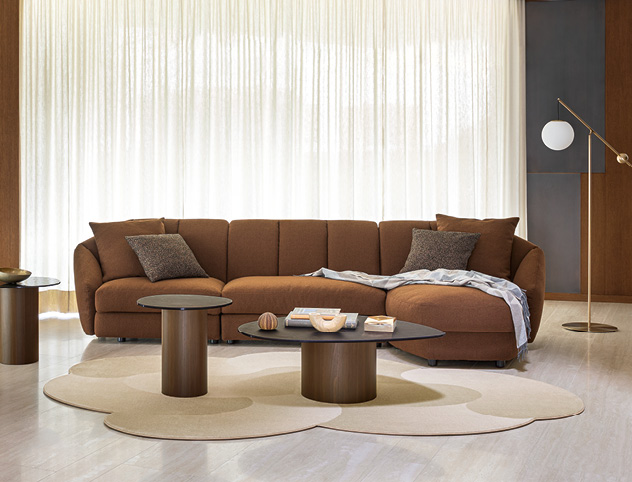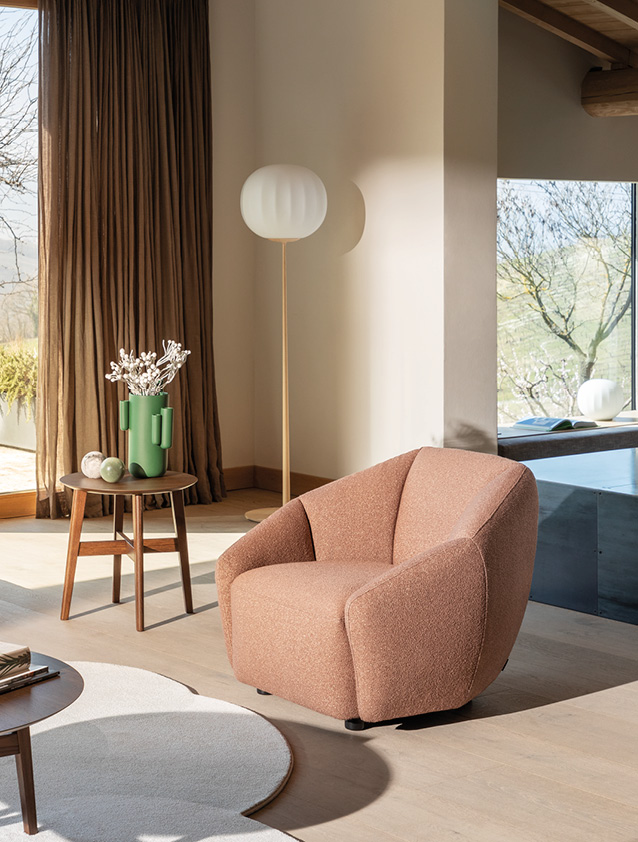 Design: Bernhardt & Vella
Large padded cushions with essential and contemporary lines give body to a sofa, which invites you to be enveloped by its softness. The stitching that recalls the shape of a smile is the aesthetic detail that gives character to the line.
The customizable composition is modular to allow different configurations and sizes. It is equipped with an electrified mechanism that allows you to easily change the inclination of the backrest and raise the legs.
The standard headrest rises manually and completes the comfort of the seat, so as to change from a more formal vertical seat to a reclining position for a cozy comfort. The extremely soft shapes in appearance and comfort, create in each arrangement the right atmosphere to enjoy your time at home.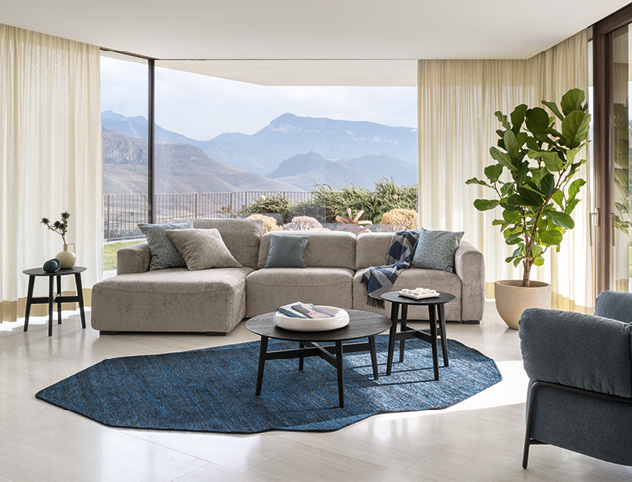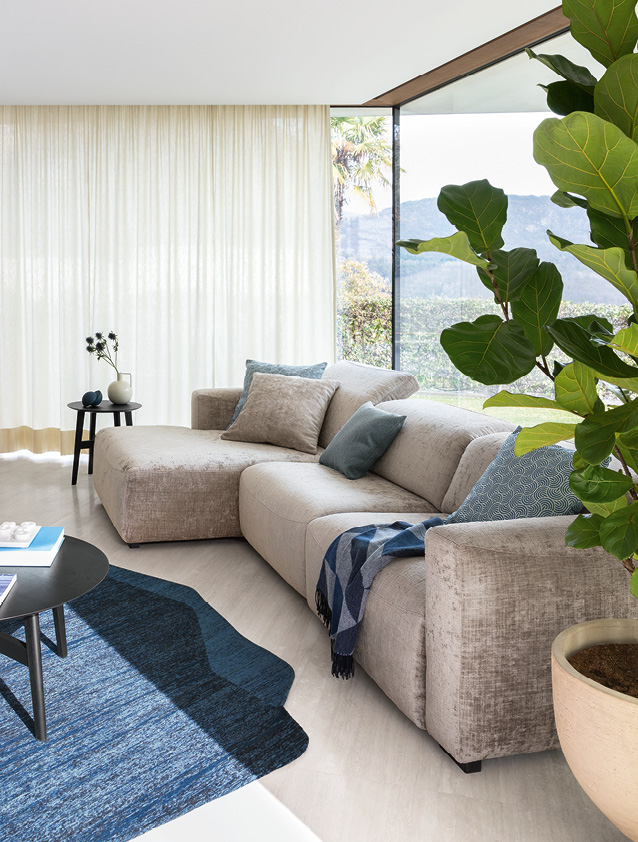 Design: Gino Carollo
The Cluster bookcase was born from the need to create a modular, versatile and multifunctional bookcase system. A furnishing system that could be extremely flexible, able to satisfy every design need, both aesthetic and functional. The double-sided finish of each element allows it to be used as a room divider. A multifunctional system obtained thanks to the variety of modules as drop down door containers, showcases, shelves, drawers and desk tops and the series of integrated accessories such as mirrors and coat hangers. It is also offered in two aesthetic variants as the uprights are designed to be fixed to the ceiling or to the wall.
The shelves are available in wood and sheet metal, making it possible to play with chromatic and compositional variations. All this, together with the attention to detail, make Cluster a product, which is synonymous with customization and great creative freedom.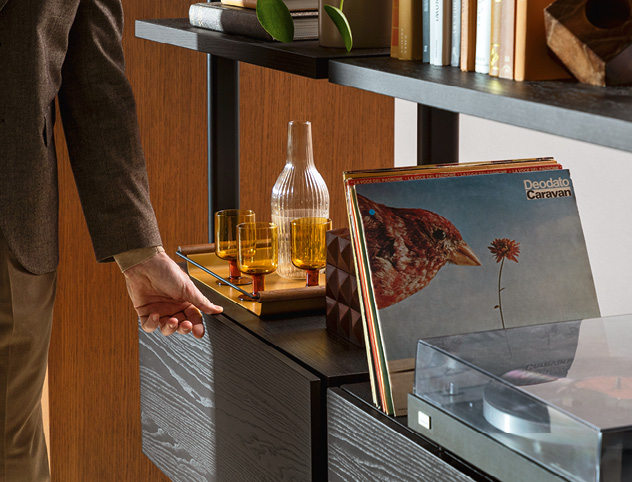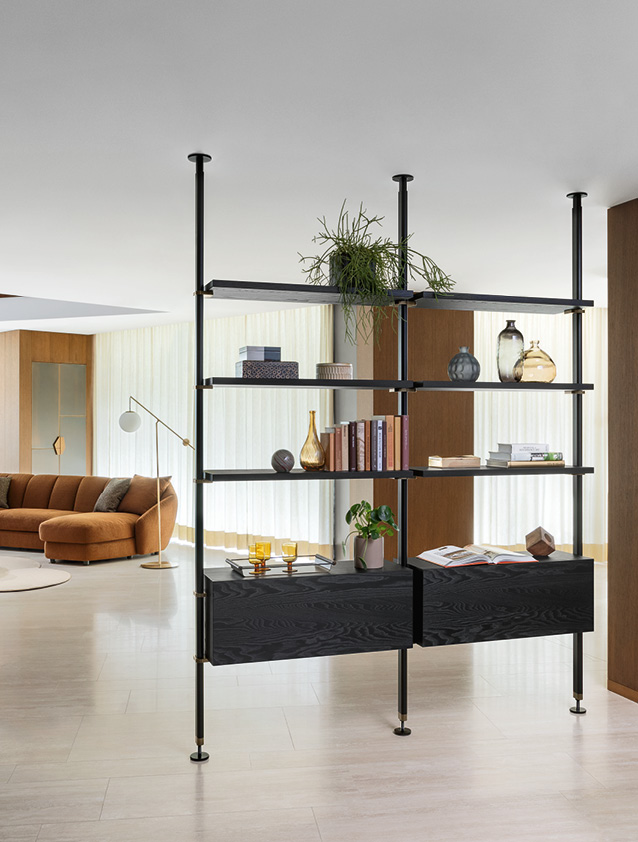 Design: Busetti Garuti Redaelli
Thin steel sheets form the frame of the Carv bookcase, softened by the wide curves of the vertical supports, thus defining a minimal and at the same time warm and reassuring appearance to the vertical supports that are arranged to give dynamism to the composition and maintain visual continuity when several modules are placed side by side or overlapped.
The vertical elements are also oriented to have closures and openings, which make more or less visible books and objects that are placed on the bookcase.
Carv's modularity allows you to create horizontal or vertical compositions and being double-sided and with a ballasted base it can be placed in the center of the room to separate the spaces.